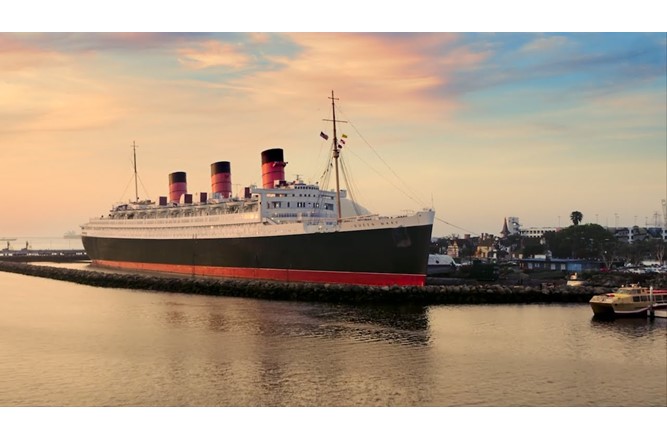 Haunted Areas on the RMS Queen Mary
A night aboard a luxury ship with a grand ballroom and other magnificent areas sounds like an absolute dream…unless that ship has been dubbed the "most haunted ship in the world." Yikes.
The RMS Queen Mary, which is now a floating hotel permanently docked in Long Beach, California, served as an ocean liner from 1936 to 1967 (except during WWII!). During its many years of service, it was reported that at least 49 guests and crew members died onboard. Double yikes! With so many tragic deaths associated with the RMS Queen Mary, it's no wonder that a few spirits have taken up residence to let their displeasure be known…
The brave ( or crazy) souls who have visited the RMS Queen Mary since all those deaths claim the following areas are totally haunted:
1. The indoor swimming pool
Two women, one in a 1930's-style bathing suit and the other sporting a 60's style one, have been seen wandering about and leaving wet footsteps in this area. No word yet on whether these ghostly babes are planning a pool party or not.
2. Door 13 in the boiler room
Another hotspot where visitors have heard screams and voices is door 13 in the boiler room where a crew member was accidentally crushed during a routine drill in 1966. Can we get a triple yikes?
3. Room B340
Guests who've stayed overnight in this room have claimed they've seen flickering lights, heard voices, and had their beds shaken by unseen spirits. In fact, because no guest could spend a night there without complaint, the room was closed off for some time and only recently has become available to rent again.
For More Chills, Watch Beverly Hills Ghost
Missy Palmer's drowning in her swimming pool looked like an accident…or was it? Check out the trailer for our upcoming indie movie Beverly Hills Ghost – a spooky and funny story of a nerd who teams up with an annoying af ghost to look for the person who murdered her. Hopefully Missy doesn't get too distracted in Long Beach if those ladies manage to plan a pool party on the Queen Mary – try not to freak if you see her there!