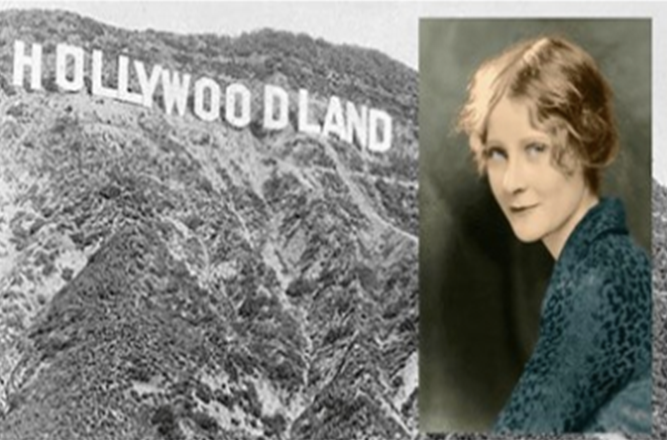 Haunted Sign of Hollywood
The Hollywood sign, which used to read "Hollywoodland" until 1946, sits in the heart of the city. It is Iconic. Most, however, don't know, it is also haunted. Haunted by the ghost of a failed actress of the 1930's. Typical.
Peg Entwistle was a stage actress who moved to Los Angeles from New York to pursue a career in movies. She landed a role in a murder mystery film called Thirteen Women, but it received terrible reviews, and afterwards, the studio didn't renew her contract. Reportedly despondent over her "failed" career, the 24 year-old hiked up to the Hollywoodland sign in September of 1932 and scaled an electrician's ladder to the top of the 45-foot tall letter "H." While gazing out at what would have been a dazzling view of nighttime Los Angeles, she jumped to her death into the ravine below.
Though she had dropped a shoe on the way up the ladder, and had left a purse with a suicide note tucked inside and her coat folded nearby, her body wasn't discovered until a hiker, who found these items, called the police. They finally located her remains on September 18th, 1932 some 100 feet below the sign.
And it gets worse. Shortly before Miss Entwistle took her life, an offer for a lead role in a stage play – in which her character was a woman who commits suicide – was mailed to her, but never received.
In any event, the sign fell into disrepair during the great depression – and the infamous "H" where Peg jumped to her death toppled over. Though the sign was restored in 1949 and the letters spelling "land" were removed, the sign continued to suffer wear and tear and was replaced once again with new letters in the late 1970s after Hugh Hefner held a fundraiser for this purpose.
Despite its history of change/renewal and decay, Peg Entwistle's ghost remains. Though visitors are no longer allowed to reach the sign (there's a fence to keep people at a distance), it brings thousands of people to the famous spot to get a closer look. Many have reported seeing a woman wearing 1930's clothes, or detecting the unmistakable scent of gardenia, her favorite perfume, and on some occasions witnessed encore performances of her jumping to her untimely death.