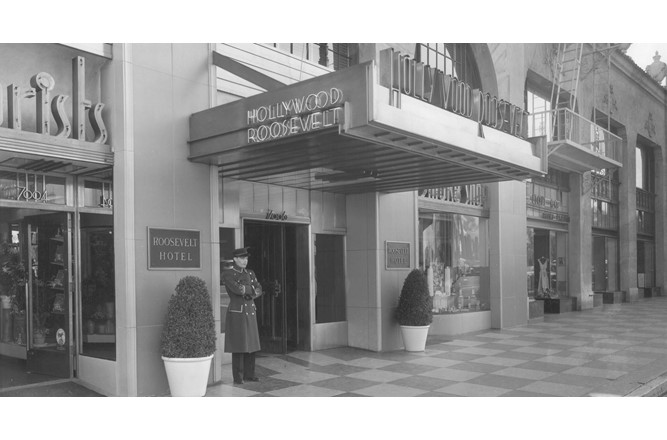 Celebrity Ghosts at the Hollywood Roosevelt
Opened in 1927, The Roosevelt Hotel in Hollywood is just steps away from popular sites like the Hollywood Walk of Fame and the Chinese Theatre. However, guests at this boutique hotel don't have to wander far to see Hollywood glitz and glamor as this hotel reportedly has famous ghosts wandering its halls!
Guests at the Roosevelt Hotel in Los Angeles have seen Marilyn Monroe checking herself out in mirrors and wandering near room 1200 where she lived for two years while launching her modeling career. Marilyn has even been spotted at the nearby Hollywood Knickerbocker Apartments, formerly known as the Knickerbocker Hotel – talk about being the busiest ghost in Hollywood! Actor Montgomery Clift who lived at the hotel while filming From Here to Eternity has also been spotted at the Hollywood Roosevelt Hotel watching maids in room 928 (ugh, what a creep) and has even patted guests on the shoulder to get their attention. Two men in tuxes have also been seen in the hotel's Blossom Ballroom where the first Academy Awards was hosted – sounds like these guys wouldn't be caught dead in anything less than the finest threads.
But with a luxe pool, multiple bars, and a garden decked out with firepits and palm trees, can you really blame these deceased celebs for not wanting to leave? This place seems like the perfect place to spend eternity.
Watch Beverly Hills Ghost
Speaking of ghosts that don't want to leave their former glam accommodations, check out the trailer for our new mystery movie, Beverly Hills Ghost. After 17-year-old heiress Missy Palmer is found dead, she continues to haunt her fabulous home, and its new resident Sari Coogan, to find out who killed her. But maybe someone should just tell this Bev Hills spirit to chill out and hang with fellow glam ghosts at the Hollywood Roosevelt. We bet she and Marilyn would get along fabulously!